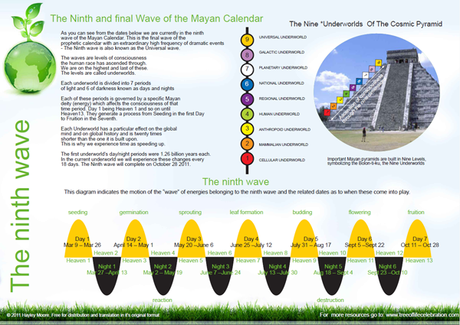 What we practice we get good at, so what are we practicing? Peace or war? Love or fear? Judgement or compassion?
I just wrote a piece for another blog which I am reposting here as I think it's important to emphasize that we do have choice and that the choices we make are becoming more and more important.
With all the talk and speculation going on around October 28th and it's association with
Calleman's
projected "end" of the Mayan calendar, (see top picture) now is a very good time to look at what you choose to think and why.
There is certainly a sense of change growing on the Earth and even more so, there seems to be a real desire for positive change.
Whether October 28th has any real meaning in Mayan or astrological terms or not, doesn't really matter as we are collectively giving it a meaning by looking towards it as representing something significant.
We can harness this significance and choose to focus collectively on positive change. So how do we do this? Mainly by letting go of fear.
"But this is a scary time!", some people will argue. Yes it is. We are certainly not downplaying the real issues that are bubbling on this planet of ours. As global financial structures collapse and with them all the livelihoods and ideas of what a secure life and a secure future should look like, then of course fear can get a toehold on the collective consciousness. Change brings with it a feeling of uncertainty and if uncertainty is not managed then fear can and will creep in.
But we have to be realistic about change. The clue is in the word and change really does mean change. Even when the change is for the good the process that nudges this new way of experiencing the world can be uncomfortable and unsettling. We can make change easier by flowing with it, staying in trust, reaching out to help each other and opening our minds to new ways of seeing and experiencing our daily lives.
Or we can make it difficult by resisting, grumbling, wallowing in fear based thinking and walling ourselves away from our true selves and from each other.
This is where our collective thinking can make a difference. If we expect the best, then perhaps we can nudge our collective destiny onto a smoother path that doesn't have to create too much discomfort.
Here are some practical ways to create positive intention and vibration:
Stop feeding your mind with negative outcomes. That means be very discerning about watching news or reading newspapers. Either stop or at least be aware that for every bad story going on there are hundreds of good things happening that are never reported.
Find a positive angle in everything that you hear and actively look for positive stories..
Use vision boards and positive words to dream yourself happy and to include beautiful earth images so that a healthy, happy planet is always included in what you imagine. Connect with animals and nature.
Pass on positive stories to others. Don't pass on bad news, scare stories or engage in pessimistic conversations.
If your thoughts are stressing you, depressing you or making you sad then ask for help. There are hundreds of wonderful teachers and methods out there that can help so have a look around and work with whatever system appeals to you.
Find a meditation practise that works for you. Learning to be with yourself in silence opens you to the much bigger you that lives within you...
Don't listen to people who say that it's so hard to become enlightened and all that sort of separatist thinking. That's just another negative thoughtform disguised as a philosophy. A happy human being at peace with themselves and the world around them, doing his or her very best to consciously create a happier, healthier world is an enlightened human being. That's all. It's no big mystery and if you're not feeling like that right in this moment you're only a thought away from it!
The key to all of this is to be conscious. To live consciously and to remember that our time here is meant to be a joyful and fun experience. Remember that the news reports just give one side of the story. There have never been so many great teachers on the planet, so many people waking up and choosing to live consciously and so many ways in which to learn and experience conscious living.
And what does it even mean to be conscious? In essence it's a way of simply living from the heart.
And because I haven't given any extracts for a while from
Dance with Life
here are a few to hopefully inspire and uplift!
Source: Dance with Life by JM Hurley (see links on right)
'Do you know what it means to be alive?
Do you understand that life is only a moment, just one moment after another?
Do you understand that?
There is no going back, no skipping ahead, just the moment called now, just the feeling that you carry within you.
Do you realise how much time is lost by spending all the yesterdays dreaming of tomorrows?
All the 'should haves' and 'could haves' are meaningless.
Tragedy is when you realise this too late.
Tragedy is when the first experience and understanding of this reality comes with the last breath.'
...
'This is not a journey with outcomes,' he said. 'The journey is the destination. I can accompany you on this journey but it is your journey and I cannot take your steps for you. You need to feel it in your own heart. Face it with clarity and with courage.'
....
'The inner voice can see in all directions,' he replied. 'To know yourself you must get to know your capacity in all directions. Good and bad are not qualities that exist outside. They are inside every human being. To be unaware of this would be to mislead yourself. Take time, let this settle. Look at what is around you; see things for what they are. Sometimes this will involve just seeing something exactly for what it is. Sometimes it will be to look beyond what is apparent. Listen to your gut feeling it is often a very good mouthpiece for the heart.'
...
Light is a real thing. It overpowers darkness on every level. I can't remove another curtain and let darkness in to engulf the light. I can only create darkness by blocking out the light, but the light is always there, waiting for a chink through which it can pour. Even the smallest spark, the tiniest chink will let the light in. Never forget that. Even when it seems to be the darkest place, never forget that the light is there, waiting for the moment when you allow it to seep in.'
...
'See this hand,' he continued, holding one hand up, 'imagine it's your physical self with all its hopes and dreams. It has a finite route. It is made of the elements and it will return to the elements. Now see this hand,' he said, holding the other up, 'imagine this is the place inside that you have just experienced. This has been, is, and always will be.' He joined his hands, interweaving the fingers. He smiled. 'This is life. This is the merger of the finite and the infinite. Through the amazing feeling machine that is your finite self, your infinite nature can play in the symphony of life. With every breath the finite and the infinite meet. Their point of union is contained in that breath. It's as close as the two realms can ever get to one another. The point of being alive, of understanding the nature of this breath is to feel and to experience this gift of life.'
.....
The heart feels no chaos. Its drumbeat is simplicity. Its desire is to be in love and to feel no duality. It is the happiness of contentment. Chaos lives in the mind, in the nerves, in the sinews. It feeds on turbulent emotions, on the rapidfiring of agitated brain cells; it battles against the simple calm of the soul. The dark night of the soul lives in the mind. Only the mind can create the very traps that lead it to self-destruct.
.....
Let no room for doubt in your heart. The heart is never off course. Trust in that.'
....
Every unconscious moment sets the seeds for a future disaster. There is always choice. You can choose to be swallowed by fear or you can choose to remove yourself from the control of fear. Do you have the ability to make that choice? Yes, because you are choosing to learn now about the process of living consciously.
......
'The world!' he exclaimed. 'The world is a very peaceful rock floating in a very calm solar system. I don't see Earth rushing at Venus or Mars, challenging them to a fight! And it has a very fortunate position, if it was anywhere else, Earth could be constantly bombarded by meteors. Instead it's lucky to bump into something only every few million years or so. This world, this planet Earth, doesn't need to seek peace, it already has it. It is people who create the wars, the random acts of violence, the hatred and destruction. And yet inside every human being is the most perfect peace. Every individual heart must seek that peace, must become conscious that everything connects, that taking responsibility for making the world a better place starts first within each person. Unconscious behaviour has a heavy cost.' 'The heaviest cost being death,' she said. 'No,' he shook his head. 'The heaviest cost is in failing to notice life.'
.......
'The true miracle of life lies in the breath and in the ability to experience the divine within. There are no other miracles,' he added, 'plenty of unusual phenomena maybe, but no other miracles. Too often the unusual takes over and the truly miraculous is forgotten.'
....
And to conclude, if you haven't already seen it the amazing and inspiring talk by Jill Bolte Taylor on what she calls her Stroke of Insight. A stroke at the age of 37 led Jill, a Neuroanatomist who specialised in brain research, not just to a new found medical understanding of brain function, but to a life changing meeting with her fully conscious, aware and blissful self...